> Home > What to visit > Churches and Monasteries
Sinagoga Ebraica
Siena
CHURCHES AND MONASTERIES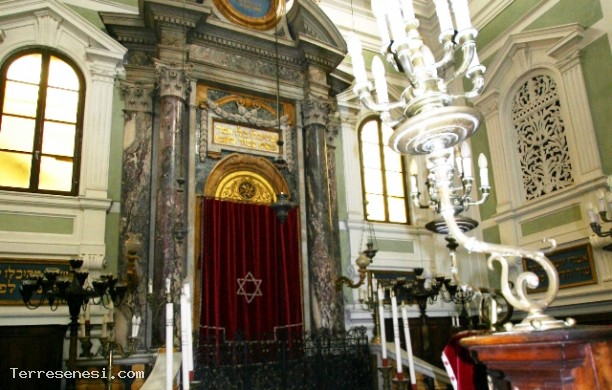 PHONE NUMBERS AND TIMES

Sinagoga Ebraica
Vicolo delle Scotte, 14 53100 Siena



Business card (vCard)
ORARI DI APERTURA E VISITA:
Sunday and Monday from 2.30pm to 6pm (last entry 5.15pm).
TICKETS: Full € 4.00; Reduced € 3.00

The first definite information about the existence of a synagogue in Siena are contained in a pastoral visit to the parish of St. Martin the bishop in 1575 Bossi.

The bishop was received by the Jewish community within a room used as a synagogue on the first floor of a building. We do not know if this place of prayer at that time was still located inside a private home.

In 1785 has documented the presence of two synagogues in Siena, perhaps small speakers of two different yeshivot led by various teachers.

In May of 1786 after work to extend the current synagogue was inaugurated with great pomp. The ceremony marked probably the unification of rites and traditions that were handed down several other schools in the ghetto.

The synagogue was inaugurated in a ceremony with music composed for the occasion on 27 May, with a procession that moves from two ancient synagogues, active time in the ghetto of Siena, who singing had to reach the new synagogue. The music composed by Francis Volunnio Gallic and Drei.

The original score, once preserved in the archives of the community, is for many years at the National Library in Jerusalem.

In 1798 the synagogue was seriously damaged by the earthquake that devastated the city of Siena.

In 1799 the presence of French troops and the terrible looting perpetrated by the troops of "Viva Maria" in the same year, helped empty the synagogue of his treasure trove of silver ritual.
STAY

NEARBY
DINING & ENTERTAINMENT

NEARBY