> Home > >
Vocazione di Pietro e Andrea
Siena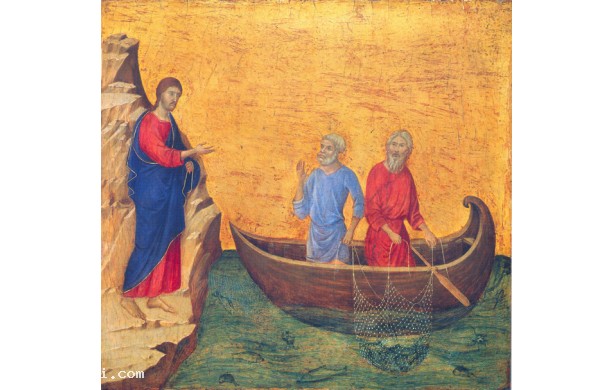 Artist: Duccio di Buoninsegna
Year: 1308-11
Current location: Washington, National Gallery of Art.
Original location: Cattedrale di Santa Maria Assunta

DESCRIPTIVE INFORMATION
"La vocazione di Pietro e Andrea" è un dipinto autografo di Duccio di Buoninsegna appartenente alla predella della Maestà del Duomo di Siena, realizzato con tecnica a tempera su tavola nel 1308-11, misura 43,5 x 46 cm. ed è custodito ad Washington nella National Gallery of Art.Il modello della presente composizione è relativo a quello bizantino. La novità sta nell'intensa corrispondenza dei personaggi che, pur isolati nei loro singoli atteggiamenti, conferiscono all'ambiente che li circonda la travolgente "atmosfera" del richiamo di Cristo.
Vocazione di Pietro e Andrea