> Home > >
039 Tarsia pav. del Presbiterio e Coro - Giosuč che vince gli Amorrei
Siena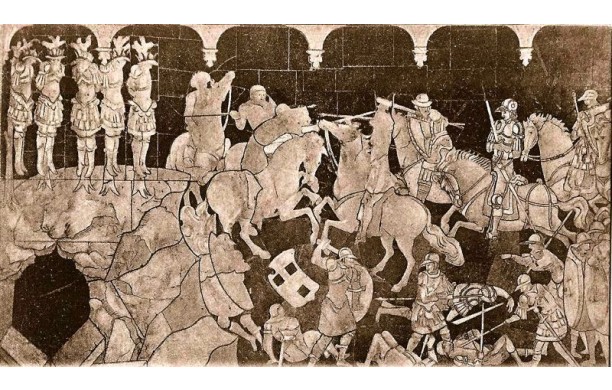 Artist: Sassetta
Year: 1426
Current location: Cattedrale di Santa Maria Assunta
Original location: Cattedrale di Santa Maria Assunta

DESCRIPTIVE INFORMATION
The first panel on the left shows that Joshua won the Amorites between contemporary figures of Solomon and Joshua. The scene was put in place in 1426 by Paul Martin in accordance with the sheets drawn from Sassetta In the past, the design was attributed to Domenico di Niccolň choirs, but Sassetta appears the most likely perpetrator, the similarities with the works of those years as the Altarpiece of the Wool in the church of San Pellegrino to Wisdom. Vasari made ​​for this scene the name of Duccio, suggestive hypothesis but impossible in the light of the documentation. The Tarsia shows the battle between Jews and Amorites, surmounted by trefoil arches arches. On the left, above the cave where they had taken refuge, we see the figures of five kings of the Amorites hanged.
039 Tarsia pav. del Presbiterio e Coro - Giosuč che vince gli Amorrei