> Home > >
10 - Pio II giunge ad Ancona per dare inizio alla crociata
Siena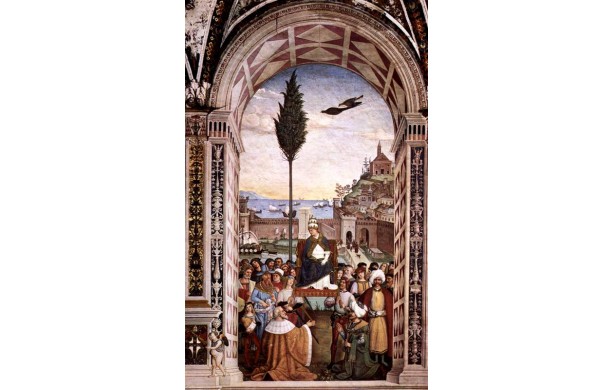 Artist: Pinturicchio
Year: 1503 - 1507
Current location: Biblioteca Piccolomini
Original location: Biblioteca Piccolomini

DESCRIPTIVE INFORMATION
The latest venture of Pius II was that of a crusade against the Turks, who wanted to participate personally in overcoming the reluctance of the Italian princes. For this reason, in June 1464, was old and sick, he went to Ancona where he barely had time to see the arrival of the Venetian fleet. The scene obviously has a celebratory tone that is outside by the failure of the company, with the pope on the throne in the center while it seems placing any orders. Riconoscioti fresco are some of the characters of the time: - The Doge Cristoforo Moro kneeling on the left - Hassan Zechariah, Prince of Samos, ousted - Thomas Palaeologus, ousted from Morea - Calapino Bajazet, the son of the sultan held hostage in Rome. Some argue that Pinturicchio copied the dress oriental drawings that Gentile Bellini made ​​in Constantinople during his journey, but in fact the same period the papal court could offer an opportunity to the presence of numerous guests exotic. The representation of Ancona in the background, with the Venetian galleys coming, it is very true to life and you will recognize the fourteenth century walls of the city, the Arch of Trajan and the Cathedral of San Ciriaco, which reworked the painter in the Renaissance sense of depriving some Gothic characters.
10 - Pio II giunge ad Ancona per dare inizio alla crociata