> Home > >
05 - E. Silvio presenta Eleonora d'Aragona all'imperatore Federico III
Siena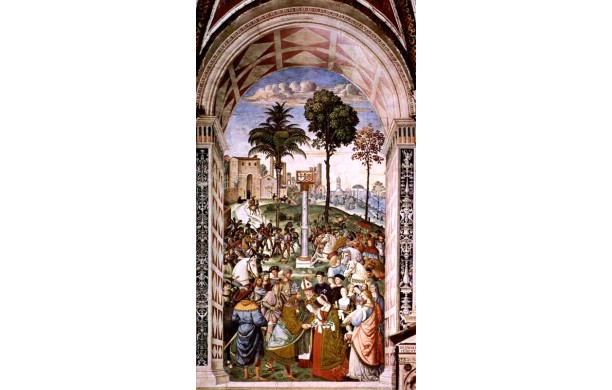 Artist: Pinturicchio
Year: 1503 - 1507
Current location: Biblioteca Piccolomini
Original location: Biblioteca Piccolomini

DESCRIPTIVE INFORMATION
Enea Silvio was already bishop of Siena when he presented to Frederick III his future wife Eleanor of Aragon. The bishop took care of tractive marriage and welcomed the two in his city February 24, 1452. The background depicts a wealth of detail the location of the event, between the door and the Camollia antiport. At center stage, the column with the coats of arms of the couple that was erected at the time and still exists locally. The creator of the composition was Raffaello, as evidenced by the small cartoon Baldeschi of 1502-03, preserved in the Pierpont Morgan Library in New York. Among the many bystanders were included various characters of Siena Contemporary, like Alberto Aringhieri, Worker Cathedral and Knight of Rhodes, Andrea Piccolomini, brother of Pius III, and his wife Agnes. By contrast, the leaders of Frederick III they've all anonymous faces.
05 - E. Silvio presenta Eleonora d'Aragona all'imperatore Federico III