> Home > What to visit > Museums
Museo di San Donato - Collezione di Banca MPS
Siena
MUSEUMS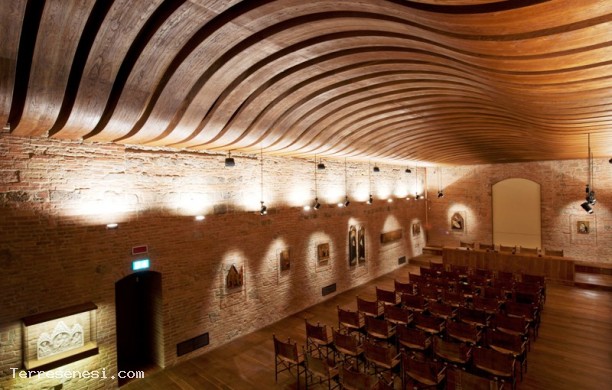 Along the northern side of the Salimbeni family's possessions was the ancient church of San Donato, founded over a century after the family's fortified residence. The church originally appeared as a single-nave building with an apse termination.
The transformation into a museum space and conference room for particular events has brought to light what remains of the ancient construction: the stones with which the perimeter walls are made and the very small dimensions of the building are in fact a clear attestation of the Romanesque origin of the church, rebuilt as early as 1236.
The church remained a place of worship until the early 19th century when, following the Napoleonic suppressions, it was transformed into a depot for carriages; only in 1925, which became Monte Paschi property, was it recovered and destined for the bank's archive. The access from Via Montanini was closed against a monumental fountain built by the sculptor Fulvio Corsini.
Only in the seventies was the transformation of the former church into a conference room and art gallery decided, an intervention carried out by the architect Pierluigi Spadolini.
In 2011 a new exhibition path was set up based on chronological criteria, in order to offer guests an organic vision of Sienese art.
STAY

NEARBY
DINING & ENTERTAINMENT

NEARBY