> Home > What to visit > Churches and Monasteries
Chiesa di Santa Maria di Provenzano
Siena
CHURCHES AND MONASTERIES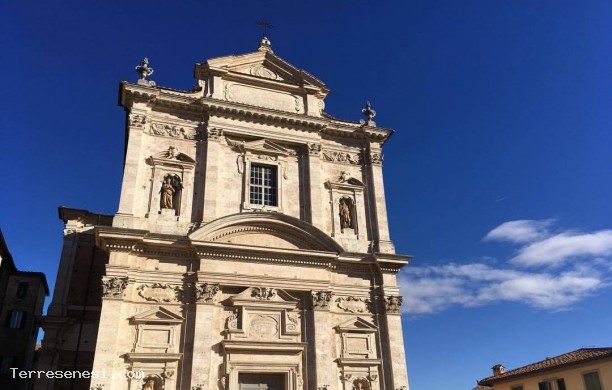 PHONE NUMBERS AND TIMES

Chiesa di Santa Maria di Provenzano
Piazza Provenzano 53100 Siena

Telephone 0577 285223


Business card (vCard)
ORARI DI APERTURA E VISITA:
Schedule:
Every day 8.30 - 12.00; 16.00 - 17.30. Monday afternoon closed.

Celebrations:
Saturday and Christmas Eve: 11.00
Sunday and Holidays: 11.00 am


The church of Santa Maria di Provenzano or church of Provenzano is located in the square of the same name. In a Mannerist style, it is where the houses of Provenzano Salvani stood, a Sienese politician often mentioned by Dante Alighieri.
The building, raised in 1595-1604, has a Latin cross plan, a single nave with a dome in the center of the presbytery and a marble facade. The structure of the façade is divided into three parts by pilasters, divided into two levels by a cornice and culminating in a central tympanum and two lateral volutes.
In the center, the portal is surmounted by an arched tympanum and a rectangular window, while on the sides there are four niches with statues of saints. Inside there are numerous works of art. The main altar houses the miraculous terracotta bust with the Madonna of Provenzano, surrounded by a Glory by Giovan Battista Querci.
In the sacristy, adorned with a seventeenth-century wooden complex, is the Lamentation over the Dead Christ by Alessandro Casolani. Also noteworthy is the burial of the Rector of the Opera of Santa Maria in Provenzano, the noble Cavalier Alcibiades Lucarini Bellanti who died at the age of seventy-nine on 7 February 1724, leaving the Opera itself heir to numerous possessions.
In the basilica is traditionally brought the drapery won after the Palio of 2 July by the procession of the winning district.
STAY

NEARBY
DINING & ENTERTAINMENT

NEARBY